Yes ! New version of Elive have been availabe to donwload on Elive official web site. They call "Elive 2.0 Topaz"


The New Stable version of Elive has a huge list of improvements, its ease of use makes it suitable for any kind of user and a totally new Linux experience for those who have not tried Elive before.
An absolutely different way to use an operating system where the logic and the intuitiveness are on the first place.

Wow it's amazing. great team, great work and Beautiful result !
Againt, here some quote from they team:

Simplicity, ergonomy and power bring your computer to a completely new level, making Elive a system not only good for the inexperienced user but also for the professional or advanced one.

Topaz is packed with tips and handy apps that helps the end user in doing swiftly what they want. Working fast is one of the main goals of Elive and an active users community is there to help you.

With e17 it's easy to create your own look and fully customize your system as you like!

Old Computers: worried about the resources needed by Elive ? This version was tested under 128 Mb of Ram and only uses the 50 % of it !

Show romanization
Elive overall allotment for all computer users.
For the artist, artists, and those who need a system that kinterja light, beautiful, elegant and fast!
Next, see the Main Important of New features. many part have been modification. it's mean, Elive look good and one step for the future to be Best Operating System for everyone.
Show romanization
so, what are you waiting for?
You can download it for free and try to feel yourself speed of Elive 2.0 Topaz!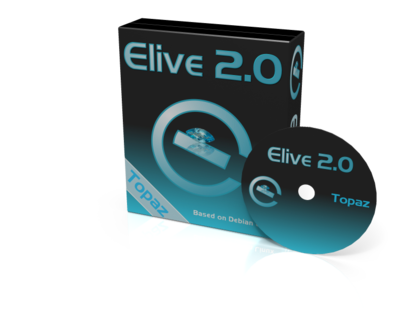 This Topaz plan will I bring into Blender Presentation in one of universities in Semarang, Central of Java, Indonesia.
Hope the team can give me one invitations code